Welcome to Unitarian Universalism!
From the Mission Statement
We are a welcoming congregation, diverse in religious and spiritual expression, uniting in fellowship to enrich our lives and inspire the community by promoting Unitarian Universalist principles.
Please take time to explore this Web site to find out more about who we are and what we do!
Services for 2017

Mar 5, 2017 Rev. Kim: Embracing Mystery and Wonder
Mar 12, 2017 Tammy Gruber: Garden of Giving
Mar 19, 2017 Rev. Kim: The Happiness Project
Mar 26, 2017 Heidi Secord: Josie Porter Farm CSA

April 2, 2017 Rev. Kim Beyond the Walls:  UUism in the 21st Century  Pledge Sunday
April 9, 2017 Gene Mater :The Four Commitments   
April 16, 2017 Rev. Kim: Easter 
April 23, 2017 Barbara H. & Sue O.: Hidden Figures (rescheduled) After service: Open House and Prospective Member Classes 
April 30, 2017 Bob Klegg   
May 7, 2017 Rev. Kim: Listening Deeply, Building Bridges  
May 14, 2017 Nathan Johnson: Blue Zones  Mother's DayMay 21, 2017 Rev. Kim 
May 28, 2017 Barbara H/Sue Lyon 
June 4, 2017 Rev. Kim 
June 11, 2017 Cynthia Miller  Sharing Talents Sunday
June 18, 2017 Rev. Kim Flower Service
June 25, 2017 Sue Lyons Discussion Sunday – Between Church and State: UUs and the Fifth Principle
July 2, 2017 David Learn The Four Noble Truths
July 9, 2017 Glenda & Paul Reiki Service
July 16. 2017 Cindy Crowner Simple Epiphanies of Nature
July 23, 2017 Jim Furiosi Oh the Places We've Been – Spirituality & Travel
July 30, 2017 Don Slepian Visioning with art and music
August 6, 2017 Jim Scott Service of Music
August 13, 2017 Maraya Sontag Healing in the Cherokee tradition
August 20, 2017 Don Slepian Peace Service
Come Join Us On Sunday!
Where are we located?
Directions
118 Knight Street
Stroudsburg, PA 18360
Phone 570-730-4122
Contact Us for More Information
 When is the Sunday Service?
10:00 a.m. Eastern Time
What do we wear?
Come dressed as you're comfortable! Business casual, jeans. Summer shorts and T-shirts, winter sweaters and boots. Children should wear comfortable clothes. We have a variety of activities for children, which on any given day might include playing with art supplies or going outside.
Where do we park?
Parking is available in front of the church and also behind the church in the parking lot.  Please leave the parking spaces closest to the church free for those who may have difficulty walking. Our building is wheelchair accessible.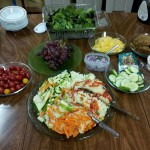 Refreshments Following the Sunday Service
And, after the Service?
Following the Service, we invite all to stay for refreshments and conversation. Have questions about Unitarian Universalism?  Come on by!
All are welcome! Please join us!