Welcome to Unitarian Universalism!
From the Mission Statement
We are a welcoming congregation, diverse in religious and spiritual expression, uniting in fellowship to enrich our lives and inspire the community by promoting Unitarian Universalist principles.
Please take time to explore this Web site to find out more about who we are and what we do!
Services for 2017
January 1, 2017, Out with the Old, In with the New
Rev. Kim Wilson, UUFP Minister
Jan 8, 2017 Josh Long: The Prophetic Voice
Jan 15, 2017 Rev. Kim: White Fragility
Jan 22, 2017 Ruth Kochera: Taize Service
Jan 29, 2017 Laurie Kozar: Family Promise
Feb 5, 2017 Rev. Kim: Lessons in Love
Feb 12:  To be announced
Feb 19 Rev. Kim: Arthur Shores or the New Jim Crow
Come Join Us On Sunday!
Where are we located?
Directions
118 Knight Street
Stroudsburg, PA 18360
Phone 570-730-4122
Contact Us for More Information
 When is the Sunday Service?
10:00 a.m. Eastern Time
What do we wear?
Come dressed as you're comfortable! Business casual, jeans. Summer shorts and T-shirts, winter sweaters and boots. Children should wear comfortable clothes. We have a variety of activities for children, which on any given day might include playing with art supplies or going outside.
Where do we park?
Parking is available in front of the church and also behind the church in the parking lot.  Please leave the parking spaces closest to the church free for those who may have difficulty walking. Our building is wheelchair accessible.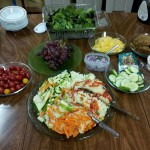 Refreshments Following the Sunday Service
And, after the Service?
Following the Service, we invite all to stay for refreshments and conversation. Have questions about Unitarian Universalism?  Come on by!
All are welcome! Please join us!