Welcome to Unitarian Universalism!
From the Mission Statement
We are a welcoming congregation, diverse in religious and spiritual expression, uniting in fellowship to enrich our lives and inspire the community by promoting Unitarian Universalist principles.
Please take time to explore this Web site to find out more about who we are and what we do!
Please click here for our UUFP Happenings Newsletter!
CALLING ALL MEMBERS! UUFP Annual Meeting
Immediately following service this Sunday, May 15, we will have our UUFP Annual Meeting. Please plan on attending. We need every member present for a quorum. You must be present to vote, as voting by proxy is not permitted under our bylaws. Important decisions about our fellowship life are made at the annual meeting, including the yearly budget, voting on board members and learning about the work of the Board and the committees. Friends are welcome to attend the meeting, but only members can vote.
Thank you!
Services for May
May 1  – "Quakers vs UUs"
Rev. Kim Wilson – UUFP Minister
May 8 – Topic to be announced
Joanna Herren – UUFP Intern
May 15 – "Why Reverence Matters"
Rev. Kim Wilson – UUFP Minister
May 22 – "Making Change Easier:  An Introduction to Self-Hypnosis"
Anna Eskenazi Bush
May 29 – Discussion Sunday
Come Join Us On Sunday!
Where are we located?
Directions
118 Knight Street
Stroudsburg, PA 18360
Phone 570-730-4122
Contact Us for More Information
 When is the Sunday Service?
10:00 a.m. Eastern Time
What do we wear?
Come dressed as you're comfortable! Business casual, jeans. Summer shorts and T-shirts, winter sweaters and boots. Children should wear comfortable clothes. We have a variety of activities for children, which on any given day might include playing with art supplies or going outside.
Where do we park?
Parking is available in front of the church and also behind the church in the parking lot.  Please leave the parking spaces closest to the church free for those who may have difficulty walking. Our building is wheelchair accessible.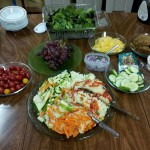 Refreshments Following the Sunday Service
And, after the Service?
Following the Service, we invite all to stay for refreshments and conversation. On the last Friday of the month, we have a Open House for all members of the community.  Have questions about Unitarian Universalism?  Come on by!  Free dinner will be provided.
All are welcome! Please join us!